The Aubin Academy Master Series: Revit Architecture 2013 and Beyond
By Paul F. Aubin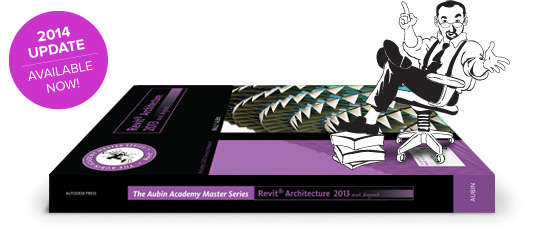 2014 Update
Download this PDF to bring your copy of "Revit Architecture 2013 and beyond" up to date with the new 2014 release of Revit! This document contains 26 pages detailing the new platform and architectural features in the software. Learn about enhancements to the Join command, Groups, Materials and the new non-rectangular Crop Regions! See the brand new interface and features for Schedules and the all new Displace functionality. Add alternate dimensions, import 3D forms into families and see new enhancements to component-based stairs. The document presents each new feature and indicates where best to try them within the pages of the existing book.
About the Book
Publisher: Cengage Learning
Paperback: 752 pages
ISBN-10: 1133944175
ISBN-13: 978-1133944171
The Aubin Academy Master Series: Revit Architecture 2013 and Beyond combines a straightforward, reader-friendly style with project-focused exercises that encourage learning by doing. You will gain practical, firsthand experience with the powerful, popular Revit Building Information Modeling (BIM) software, which leading architects and engineers are using to move beyond traditional Computer-Assisted Design (CAD) to manage complex projects, foster collaboration, and boost productivity. This completely revised edition covers new features in 2013 such as Stairs and Railings and Materials. The book's tutorial-based lessons cover topics of interest to beginners and seasoned users alike. Learn to set up projects in Revit, creating views and organizing project data for maximum efficiency. Create model elements like Walls, Doors, Roofs and Curtain Walls. Work concurrently on two projects: one residential and one commercial as you create a complete set of documents from initial modeling all the way to detailing and scheduling. Round out your essential Revit skillset with a look at team collaboration (Worksharing), Rendering and outputting data and documents. All required exercise files are available for free download to use with the book's lessons.
Downloads (3)
Table of Contents
| | |
| --- | --- |
| Section I | Introduction and Methodology |
| Quick Start | General Overview Conceptual Underpinnings of Revit |
| Chapter I | Architecture |
| Chapter 2 | Revit Architecture User Interface |
| Section II | Create the Building Model |
| Chapter 3 | Creating a Building Layout |
| Chapter 4 | Setting up Project Levels and Views |
| Chapter 5 | Column Grids and Structural Layout |
| Chapter 6 | Groups and Links |
| Chapter 7 | Vertical Circulation |
| Chapter 8 | Floors and Roofs |
| Chapter 9 | Developing the Exterior Skin |
| Chapter 10 | Working with Families |
| Section III | Construction Documents |
| Chapter 11 | Detailing and Annotation |
| Chapter 12 | Working with Schedules and Tags |
| Chapter 13 | Ceiling Plans and Interior Elevations |
| Chapter 14 | Printing, Publishing and Exporting |
| Chapter 15 | Worksharing |
| Section IV | Conceptual Massing and Rendering |
| Chapter 16 | Conceptual Massing |
| Chapter 17 | Rendering |
| Section V | Appendices |
| Appendix A | Additional Exercises |
| Appendix B | Online Resources |
Buy this Book
Books