Revit Essentials for Architecture: 2021 and beyond
By Paul F. Aubin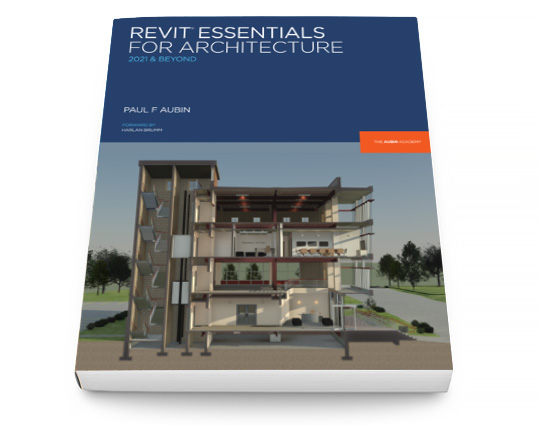 About the Book
Publisher: G3B Press
Paperback: 806
ISBN-13: 978-0-578-73106-3
Revit Essentials for Architecture combines a straightforward, reader-friendly style with detailed project-focused exercises that encourage you to learn by doing. Readers will gain practical, firsthand experience with the powerful and popular Autodesk® Revit® software; purpose-built for Building Information Modeling (BIM), which industry leading architects and building design professionals are using to move beyond traditional Computer Aided Design (CAD) and drafting to manage complex projects, foster collaboration and boost productivity. With tools for early schematic design and planning, detailed design development studies and tools to create complete sets of deliverables including traditional construction document sets and modern digital output, Revit offers the modern architect everything they need to be successful in today's competitive market. Within these pages you will find a concise manual focused squarely on the rationale and practicality of creating architectural projects within the BIM paradigm. The emphasis is on proven best-practice procedures rather than a series of independent commands and tools. The goal of each lesson is to help readers complete building design projects successfully. You will find equal emphasis on "why" individual tools and features are used, not just "how" to perform the picks and clicks. The text and exercises seek to give the reader a clear sense of the value of the tools, while remaining focused on practical examples from architectural practice. Revit Essentials for Architecture provides resources designed to shorten your learning curve, raise your comfort level, and, most importantly, give you real-life, tested, and practical advice on the usage of the software to create architectural Building Information Models.
Features:
Thorough coverage of the essential skills required to use Revit for Architecture.
Includes coverage of modeling tools, setting up views, composing sheets, working with design options, linked files, and team collaboration with worksharing.
The author combines his extensive experience as an educator and architectural professional with a straightforward, engaging writing style, making even complex material easier for readers to master and apply to real projects.
Practical, project-focused exercises encourage readers to "learn by doing," giving a deeper understanding of the BIM process and the tools and techniques used to practice it.
BIM Manager tips throughout the text offer readers practical insights on what is required to manage building information modeling in a modern architectural setting.
Dataset and practice files are included and available for download from the author's website.
Files are provided for each chapter, so you can skip to just the topics you need or follow the lessons from start to finish. Check your progress by comparing your results to the completed versions provided.
Use the book with Autodesk® Revit®, or Autodesk® Revit® LT software.
Downloads (5)
Table of Contents
Foreword
 by Harlan Brumm
Preface
Section I
Introduction and Methodology
Chapter 1
Quick Start Overview
Chapter 2
Conceptual Underpinnings of Revit
Chapter 3
Revit User Interface
Section II
Creating the Building Model
Chapter 4
Creating a Building Layout
Chapter 5
Setting Up Project Levels and ViewS
Chapter 6
Column Grids and Structural Layout
Chapter 7
Groups and Links
Chapter 8
Vertical Circulation
Chapter 9
Floors and RoofS
Chapter 10
Developing the Exterior Skin
Chapter 11
Families and the Family Editor
Section III
Construction Documents
Chapter 12
Detailing and Annotation
Chapter 13
Working with Schedules, Tags and Data
Chapter 14
Ceiling Plans and Interior Elevations
Chapter 15
Printing and Output
Chapter 16
Worksharing
Section IV
Conceptual Massing and Rendering
Chapter 17
Conceptual Massing
Chapter 18
Rendering and Presentation
Appendix A
Index
*This page contains affiliate links and I will be compensated if you make a purchase after clicking on my links.
Buy this Book
Buy Kindle Edition
Books