BIM Collaboration with Autodesk Navisworks
By Paul F. Aubin & Darryl McClelland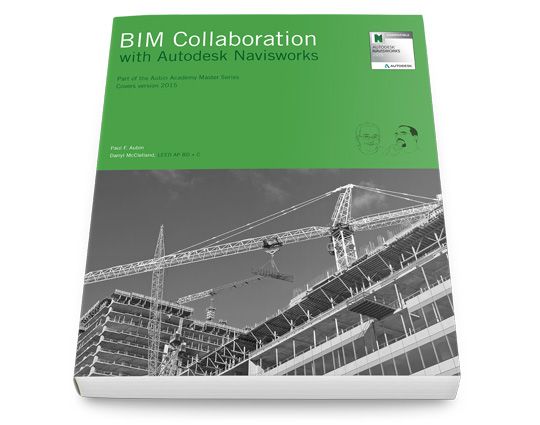 About the Book
Publisher: G3B Press
Paperback: 282
ISBN-10: 1500434876
ISBN-13: 978-1500434878
Praise for the book:
"I was delighted when I got through the book and had a page full of notes with tips and tricks picked up along the way!"
Jeffrey Pinheiro, AKA "The Revit Kid"
Read the complete review here.
So you have completed you project model and feel a sense of relief. But should you? What now? What conflicts could be potentially discovered in the field costing you time and money to address? How can you reduce you liability for those errors and/or omissions? Maybe you are responsible for the coordinating all disciplines work for the project. How can this be done and identify potential conflicts before they happen to ensure that the schedule is met? Navisworks can help address all those concerns. Navisworks is a model aggregator that can combine various file formats to create an overall project model allowing you to fully coordinate multiple aspects of your project. The Aubin Academy Master Series: BIM Collaboration with Autodesk Navisworks is the ideal book to help readers get started with and successfully use Navisworks. This book touches on the collaboration aspect of the Building Information Model. The goal of each lesson is to help the reader complete the collaboration of their projects successfully. Navisworks tools are introduced in a focused process with a strong emphasis on "why" as well as "how". The text and exercise seek to give the reader a clear sense of the value of the tools, and a clear indication of each tool's potential. In addition, there are Quick References at the end of most chapters that you can use as ongoing reference material. The Aubin Academy Master Series: BIM Collaboration with Autodesk Navisworks is a resource designed to quickly get you "up to speed" on Navisworks, shorten your learning curve, raise your comfort level, and more importantly give you real-life practical advice on the usage of the software in order to help with project collaboration. Empowered with the information in this book, you will have insight into how to use Navisworks to better coordinate your projects.
Downloads (2)
Table of Contents
Preface
Section I
Introduction
Chapter I
Building Information Modeling
Section II
Understanding Navisworks
Chapter 2
User Interface
Chapter 3
Global Settings and File Options
Chapter 4
Files and File Management
Chapter 5
Model Navigation
Section III
Project Model Analysis
Chapter 6
Object Management
Chapter 7
Clash Detective
Chapter 8
Measure and Redline
Chapter 9
TimeLiner
Chapter 10
Quantification
Section IV
Visualization
Chapter 11
Animator
Chapter 12
Scripter
Index
KnowledgeSmart Skills Assessment
*This page contains affiliate links and I will be compensated if you make a purchase after clicking on my links.
Buy this Book
Books