The Aubin Academy Master Series: Revit Architecture 2011
By Paul F. Aubin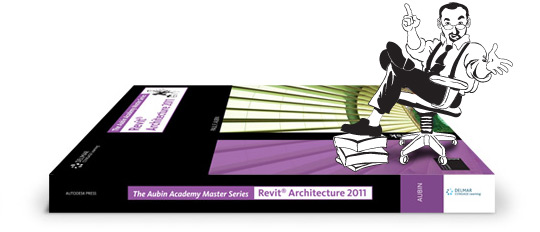 About the Book
Publisher: Cengage Learning
Paperback: 864 pages
ISBN-10: 1111124930
ISBN-13: 978-1111124939
The Aubin Academy Master Series Revit Architecture 2011 focuses on the rationale and practicality of the Revit® Architecture process allowing readers to learn faster and get a clear sense of the software and an understanding of each tool's potential. Instruction and tips from the author as well as online quick start videos all contribute to reinforce learning of Revit Architecture 2011.
New - Course notes now available!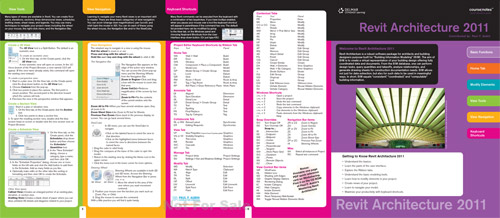 Course Notes quick reference cards reinforce the most important and widely used features of CAD and BIM software applications in a visual and user-friendly format. They serve as a great reference guide during and after a course or training session and can be used as a stand-alone learning guide or as a resource to accompany Revit Architecture 2011.
Downloads (5)
Table of Contents
| | |
| --- | --- |
| Quick Start | General Overview Conceptual Underpinnings of Revit |
| Section I | Introduction and Methodology |
| Chapter I | Architecture |
| Chapter 2 | Revit Architecture User Interface |
| Section II | Create the Building Model |
| Chapter 3 | Creating a Building Layout |
| Chapter 4 | Setting up Project Levels and Views |
| Chapter 5 | Column Grids and Structural Layout |
| Chapter 6 | Groups and Links |
| Chapter 7 | Vertical Circulation |
| Chapter 8 | Floors and Roofs |
| Chapter 9 | Developing the Exterior Skin |
| Chapter 10 | Working with Families |
| Section III | Construction Documents |
| Chapter 11 | Detailing and Annotation |
| Chapter 12 | Working with Schedules and Tags |
| Chapter 13 | Ceiling Plans and Interior Elevations |
| Chapter 14 | Printing and Publishing |
| Chapter 15 | Conceptual Massing |
| Section IV | Appendices |
| Appendix A | Additional Exercises |
| Appendix B | Worksharing |
| Appendix C | Rendering |
| Appendix D | Online Resources |
Buy this Book
Books