The Aubin Academy Master Series: AutoCAD Architecture 2011
By Paul F. Aubin with David W. Koch, RA
About the Book
Publisher: Cengage Learning
Paperback: 944 pages
ISBN-10: 1111137951
ISBN-13: 978-1111137953
The Aubin Academy Master Series AutoCAD Architecture 2011 explains the process of creating professional-quality building design projects using the newest release of AutoCAD? Architecture. Using a project-based approach, this text goes beyond a simple rundown of tools and commands to focus on the rationale and practicality of the software through life-tested, practical lessons that emphasize the "why" as well as the "how" in order to help users complete projects successfully.
New - Course notes now available!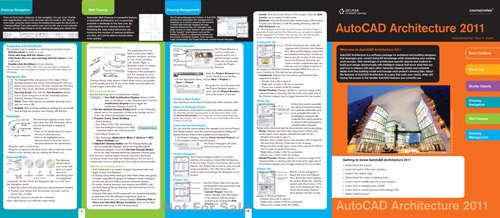 Course Notes quick reference cards reinforce the most important and widely used features of CAD and BIM software applications in a visual and user-friendly format. They serve as a great reference guide during and after a course or training session and can be used as a stand-alone learning guide or as a resource to accompany AutoCAD Architecture 2011.


Downloads (4)
Table of Contents
| | |
| --- | --- |
| Quick Start | General Overview |
| Section I | Introduction and Methodology |
| Chapter I | User Interface |
| Chapter 2 | Conceptual Underpinnings of AutoCAD Architecture |
| Chapter 3 | Work Space Setup |
| Section II | The Building Model |
| Chapter 4 | Beginning a Floor Plan |
| Chapter 5 | Set Up the Building Model |
| Chapter 6 | Column Grids and Structural Layout |
| Chapter 7 | Vertical Circulation |
| Chapter 8 | The Building Shell |
| Chapter 9 | Mastering Wall Cleanup |
| Chapter 10 | Progressive Refinement – Part 1 |
| Chapter 11 | Progressive Refinement – Part 2 |
| Chapter 12 | Roofs and Slabs |
| Section III | Construction Documents |
| Chapter 13 | Creating Reflected Ceiling Plans |
| Chapter 14 | Generating Annotation |
| Chapter 15 | Generating Schedules |
| Chapter 16 | Generating Sections and Elevations |
| Chapter 17 | Generating Details and Keynotes |
| Chapter 18 | Plotting and Publishing |
| Section IV | Appendices |
| Appendix A | Additional Exercises |
| Appendix B | Wall Cleanup Checklist |
| Appendix C | Online Resources |
| Appendix D | Space Area Calculations |
| Appendix E | Sharing Files with Consultants |
| Appendix F | Wall Cleanup Solution |
| Appendix G | Renovatation Mode and Constraints |
Buy this Book
Books