Un-BIM-lievable!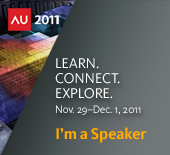 Planning to attend Autodesk University? If so, make sure you check out the class: "Un-BIM-lievable! You Did What with AutoCAD® Architecture?" Class ID: DL5808. This class is presented by my longtime client friend Patricia Wines of Walt Disney Imagineering (WDI). She will be joined by two of her WDI colleagues Michael Ross and Jess Kuncar.
In Patty's own words:
 "I hope I can count on you all to attend our 8:15 am class on Thursday morning."
"We are going to be showing some AMAZING models we have created in AutoCAD, and some great imagery from projects in construction. I realize time is limited at AU, and I know we are scheduled at the most inopportune time after a big party, but I promise a great presentation. So if you have customers/partners/users interested in how to execute BIM in ANY platform, I urge you to attend our session. We are really excited about what we're going to present. We hope you'll join us."
 I will echo that sentiment. WDI does some amazing stuff that just "wows" me every time I'm there. Here is the official class description:
This class will demonstrate that sufficiently utilized design software can create beautiful, graceful, complex, and intriguing BIM models. Building Information Modeling (BIM) and Integrated Project Delivery (IPD) are ubiquitous phrases used in the marketplace today and studied in universities, and they might well be the most overused and misunderstood. The word might more accurately be spelled b*I*m, because the building and the model are second to the information and its consumer. Knowing how much information is required and providing a supply of it equal to the demand makes for the most efficient and useful models. In this class, a number of successful designs will be discussed, focusing on the work created for Disney's California Adventure in Anaheim, and in particular, the extremely successful Voyage of The Little Mermaid attraction.
 If you are able to attend this session, I am sure you will find it one of the most satisfying sessions of the conference. Come join me in the back to give Patty a big cheering section!
Categories