Tool to swap fonts in Revit files
I am working on a few Revit implementation projects for a couple clients right now. Both of these clients use fonts other than arial in tags, dimensions and text. If you have ever been faced the this issue of swapping fonts in Revit before, you know that it is NOT as easy as simply flipping some master switch. Unfortunately.
A quick Google search revealed that I am not alone on the desire for an easy way to do this. Many have commented on this issue before on the various forums and blogs out there. One such post was over at "What Revit Wants". Luke mentioned a tool by a company named SofiSTiK. The tool is called BIMTools and you can find information about it here.
The page is in German, so you may need to translate if you do not "sprechen Deutsch". There is a 2012, 2013 and 2014 version of the tool. They ask for your email and name. The 2014 version is on the Exchange App store. So if you are logged in, there is no need to register with them directly.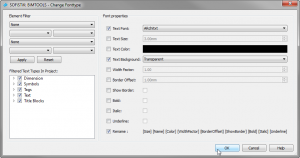 BIMTools is a suite of structural tools. I cannot comment on all of the other tools, but I installed it in Revit 2013 and ran the Change Font tool. Works like a charm. It quickly changed the font of ALL annotation items in my project file. I wish it had a batch mode to do families, but I figure I will create a file, load all the families into the file, run the tool and then use the command on the Application menu to export all of the families (Application Menu > Save As > Library > Families). Should work, but I will post back here later if it does not.
I found this tool VERY useful so far. Saved me a lot of time. If you are structural, check out some of the other functions as well, but for me the Change Font tool was just what I needed.
Anyhow, best part is the tool is free. So thanks to the folks at SofiSTiK for the tool, and Luke Johnson for tipping me off to it.
***Update: I tried the import/export trick. I worked! So import a bunch of annotation objects into a project. Run the tool, and then use the Save As > Library > Families command. Worked great. My only complaint is that it does not give any control over the rename function. The format of the new name is built-in. So I can't make it use 3/32″ Architext in the name, it does 3.5mm Architext instead. Oh well, one more reason to go metric here in the US. 🙂
Categories