Project Soane – The World's first "Crowd Sourced" Revit Project!
Have you heard about Project Soane? Project Soane is a Worldwide effort to recreate Sir John Soane's lost work at the Bank of England in London. Back in the early 1800's Sir John Soane was the Architect for the Bank of England and created many of his most famous and respected works there.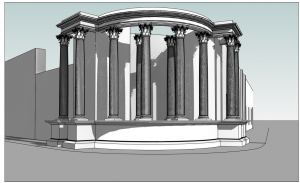 Sadly however, much of his work has been lost to future renovations at the bank. However, a vast archive of Soane's original drawings survive at the John Soane Museum. Project Soane is an effort to use these drawings and the efforts of 100s of volunteers throughout the World to recreate the most notable portions of Sir Soane's work at the bank. Anyone can join the project by visiting the site and signing up. The project is hosted on an Autodesk 360 site. When you join the project, you will gain access to the site and be able to download files from and contributions from other participants and then update your own contributions. The project is hosted, curated and sponsored by a very impressive list of companies including: HP, Nvidia, RAMSA, Case, Autodesk, CGArchitect and The Sir John Soane Museum.
I recently participated in a discusion on the BIM Thoughts Podcast about Project Soane. You can listen to it and learn more about BIM Thoughts here. If you want to join the project, head on over to projectsoane.wordpress.com/ today.
Categories