Corinthian Update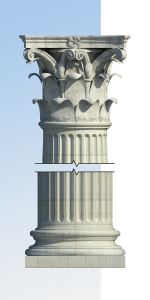 Well Autodesk University is behind us now and I have found a little time to make some progress on my Corinthian capital. I now have something that is "reasonably" complete. However, there is still much to do to make it "actually" complete. For example, I tried two different approaches to the volute scrolls. The ones at the corners are a series of stacked lofted forms. Each one using the last shape from the previous one as the first shape for the next. The middle scrolls instead use a single swept form (more of a swept blend actually) along the single continuous scroll shaped spline path. This gives me the fillet (or raised lip) portion of the volute. To create the solid material behind the fillet, I used two slightly smaller forms in the overall shape of the scroll and revolved it to create a form. Both this revolve and the nested scroll forms are hosted on the ends of the reference planes on an arc. Believe it or not, the flower at the top abacus was one of the most difficult forms. I kept getting the dreaded "cannot create form" message, or "line is too short" message. So for now, I built that as a "one off". It is not parametric or scalable yet.
**Edit** By the way, this rendering was done directly in Revit. The two renderings were composited together in Photoshop. I tried Steven Shell's method, but I was unhappy with the break line, so I resorted to Photoshop. Otherwise, it is all Revit.**
The part that I am the most dissatisfied with so far is that all of the leaves are surfaces instead of solids. I have tried various approaches to create solid leaves, but always get the "can't create form" message. If I build scalable rigs as nested profile families, the create form button does not like them. It seems to choke on the Reference Lines in the nested family. I can use traditional Generic Model families, but it is much trickier to make them parametric since I cannot do the Reference Line rig approach there. Finally, this file is currently HUGE!. 13.8 megs!!! Clearly I need to get that down to a more manageable size. I also still need to make the Course detail version and the materials still need work.
So, I will continue to hammer away at this. But in the meantime, enjoy some images of what I have so far.
Categories