Renaissance Revit Now Available
I am very pleased to announce that my new book: Renaissance Revit: Creating Classical Architecture with Modern Software is now available for purchase! This book is part exploration of traditional architectural form, part Revit content creation strategies and best-practice, part family editor workshop and part deep-dive into some complex and really fun form-making. I have been working on this content for some time (many years in fact) and finally decided it was time to compile it all in book form. It is helpful if you have a little experience in the family editor before attempting this book, but even if you are new to content creation, the critical basics that are required are covered in the first few chapters, so all are welcome.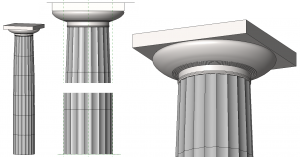 I had a few goals when I set out to write this book. Firstly, I have always been interested in classical architecture. When I was in Architecture school, we learned to "see" and "analyze" form with our sketchpad and pencil. In that spirit, I embarked on this journey to create some of the classical orders using a digital pencil. All of the existing books and source materials available on classical architecture give guidance on how to construct the orders using traditional tools like triangles and compasses. I set out to modernize the approach by creating a manual that uses Revit instead of straightedge and compass to build; and in the process, understand and analyze traditional form. But I ended up with much more. As you begin this process, you start to see the subtlety and complexity in these traditional forms, but at the same time how timeless they really are. That brings me to my next goal. I am an educator. I am never satisfied in simply building something cool. I am always thinking of ways to teach how I did it; this means developing a repeatable process. As I struggled to develop repeatable ways to create Ionic volutes and Corinthian acanthus leaves in Revit, I gained a whole new appreciation for classical forms (and those who created them without the benefit of computers). And along the way solidified techniques that I think go well beyond classical (or any particular style). For example, in Chapter 4 I lay the foundation of much of the work that will follow in the remainder of the book and discuss many ways to reliably control and constrain curvature in parametric families. If you have ever created a piece of family content that contained curves only to flex it and have the curve completely misbehave, then you can appreciate what I am referring to. There are plenty of other examples throughout the book where I discuss very practical approaches to solving everyday content challenges such as: breaking content into smaller forms, nesting, level of detail, using profiles and much more. I just happen be doing all this with Tuscan, Doric, Ionic and Corinthian columns! Now if you do work with classical orders in your practice, then so much the better. But the point that I really hope comes across here is that this book is a Revit family content creation manual. Its subject matter is classical architecture, but the skills it teaches are applicable to all content creation.
So if you have ever wanted to create complex parametric content in the Revit family editor, are bored with all the demos and tutorials that show simple boxes, or are just looking for a fun and interesting challenge, then I sincerely hope you will consider picking up a copy of my book and trying it out.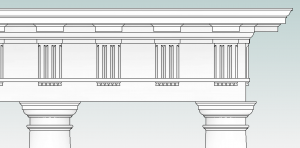 A few items you should know about the book. It is available in two editions. There is a black and white edition and a color edition. The color edition is printed on nicer paper and that combined with preserving the original color from all the screen captures makes the images pop much nicer in this edition. Unfortunately it is not cheap to print a 500 page book in full color, so this edition does come at a much higher price. I think the enhanced image quality makes it worth it, but I may be a little biased. A black and white edition is also available. Other than the color, the black and white edition is identical in all other ways and contains the same content as the color edition. And as you would expect, its price is much more affordable. Complete details and pricing are on the book page.  The dataset also comes in two editions and two versions (four total, but you only need one). It is provided in two editions: basic and extended (or complete). Instructions on how to download and what is different about each one are included in the book. I also created the entire dataset in both 2014 and 2012 versions of Revit. So the book can be used successfully with Revit 2012, 2013 and 2014 and later. 
—
Before I leave you I have some people to thank. First there is my technical editor Aaron Maller. Aaron is the BIM Manager at The Beck Group. Aaron is brilliant and his insight was invaluable, even if I was unable to apply every one of his suggestions in the book, they were all thought provoking and very much appreciated. Not only that he caught plenty of typos and other mistakes that would have made me look silly. So for this I am grateful. Thanks Aaron. Be sure to check out Aaron's blog here. Next is Zach Kron. Zach works for Autodesk, is a genius, is fun to be around and has one of the best Revit blogs on the net. And he runs an awesome virtual pumpkin carving contest every Halloween. How cool is that? Anytime I need some advice on a tricky massing environment problem, I can count on Zach to available for some sage advice. Thanks Zach. Many of the techniques covered in the book I originally learned from you. You can't get serious about taming curves in the family editor without employing a little bit of High School trigonometry. Well if you are like me, you forgot all of that stuff long ago. Desiree Mackey to the rescue. Dezi is a Professional Engineer and BIM Manager at Martin/Martin, Inc., a top ranked speaker at both Autodesk University and Revit Technology Conference and very good at math. Her and her husband Brian Mackey were both very gracious with their time and suggestions on how to solve my formulas and troubleshoot the nuances of structural members. So thank you to both Brain and Dezi. Much appreciated. You can check out their blog here. There are many other folks who provided inspiration, blogs and advice. I have listed them all in the Acknowledgements section of the Preface. So if you don't see your name here, don't fret, you're in the book.
Finally, I cannot begin to express my gratitude to Andy Milburn. Andy is the host of the Grevity blog and one of the most brilliant practitioners in the business. If you are not following his blog, you need to subscribe right now. Really fantastic and thought provoking stuff. I asked Andy to write a foreword for the book and he graciously agreed. What Andy sent me just knocked my socks off. I am honored and humbled by his words. But rather than my try to express them, instead I thought I would just post the foreword here for you to read. Andy, what can I say? Thank you! This is so much more than I was hoping for.
Well, that's it for now. I sincerely hope you like the book. It truly is a labor of love. I look forward to your comments. Thank you.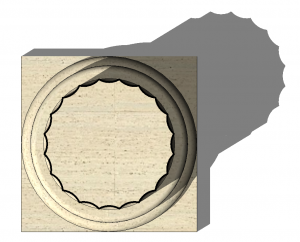 Categories